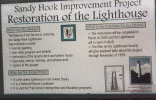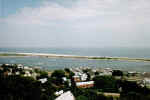 The Pix Below are of Fort Hancock also Located in
Gateway National Park
My wife and I are members of the New Jersey Lighthouse Society
Funding was received and work begun in September of 1999
As of this March 26, 2000 the restoration is almost completed to the Lighthouse.
I will have photos soon.
The only other aspect for restoration is the Light Keepers House which will be done at a later time.
The work on this Historic Lighthouse has been Completed and the Lighthouse has been Redidecated on June 10,2000
Click photo update to see pictures of the completed project
Photo Update2
All Pictures of Sandy Hook are the property of Salvatore Trentacoste Webmaster & Owner of Web Designs by Sam, use of these pictures without written consent or compensation is a direct violation of Copyright laws and said violator 's will be prosecuted to the fullest extent of the Law.

Digimarc and the Digimarc logo are registered trademarks of Digimarc Corporation. The "Digimarc Digital Watermarking" Web Button is a trademark of Digimarc Corporation, used with permission.
Copyright © 1999-2018
[email protected]